Tech Is providing thousands of new jobs.
Tech Is an industry we can all participate in.
Tech Is opportunity for everyone.
#TechIsUs
​
Join AnnenbergTech, Comparably, and Mayor Eric Garcetti at TechFair LA, where companies are seeking both entry-level and experienced job seekers – and they want to meet you! Take advantage of our Tech Fair prep content that includes: Resume Tips, Networking 101, Pitching Yourself to a Recruiter and much more! When you attend, company booths will be accompanied by career advice panels, one-on-one coaching, and small group sessions with experienced tech executives.
Get Prepared:
Last year, over 10,000 people attended TechFair LA. Opportunities are waiting for you!

Make sure you're prepared to talk to hiring managers. Here are some important first steps:

* Update your résumé
* Make sure your LinkedIn profile is complete
* Grab a friend and run through a few practice interviews
* Think through the best way to share your experience and strengths
Frequently Asked Questions
Why should I attend?
You currently have, are pursuing, or interested in learning more about available positions at tech companies or other tech-related job openings.. You have an interest in software development, design, product management, or you have an interest in applying other skills (marketing, communications, human resources, etc.) at a tech company.
What types of companies will be there?
Over 250 of L.A.'s top tech employers looking to discover new talent. Companies already registered include Boingo Wireless, Experian, FabFitFun, Jam City, Omaze, Snap Inc., SpaceX, and much, much more.
What will happen at TechFair LA?
You will meet hiring managers from tech and tech-related companies.There will be speakers and content sessions designed for job seekers, a hackathon, a pitch competition, resume tips, networking, and one-on-one career advice.
Keep an eye out for emails detailing the various speakers and content sessions to make sure  you take advantage of everything that interests you.
What should I expect at a company booth?
Each company will be looking for different types of candidates, whether by discipline or years of experience. Approach each employer that interests you to learn more about their available positions. If something is right for you, strike up a conversation!
What should I wear?
Tech companies tend to be more casual, but this is an opportunity to show your serious interest in the company. Business or business-casual attire is recommended.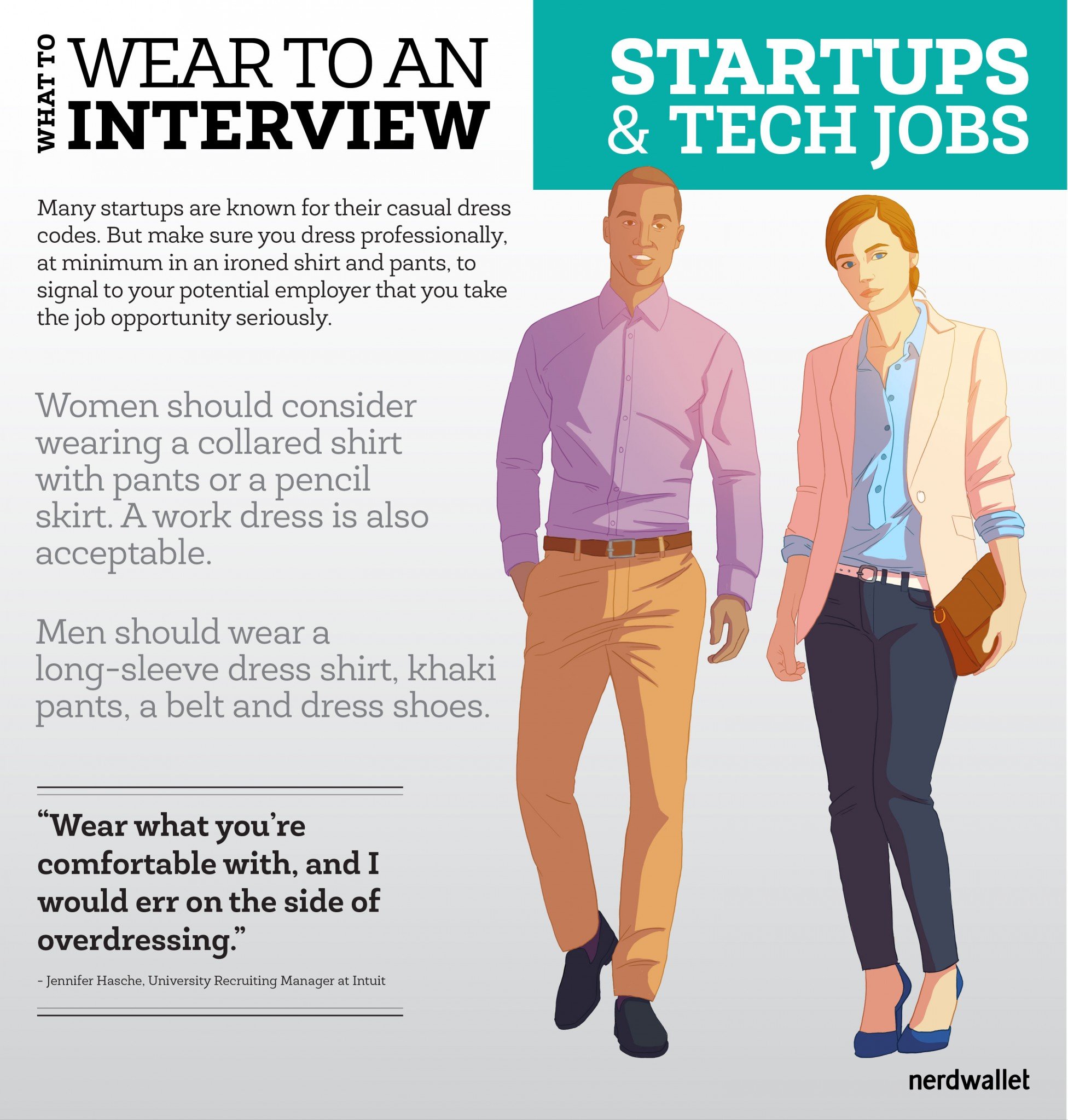 Via:NerdWallet
What should I bring?
Most important, bring your confidence! You have worked hard to build your skills and become a valuable addition to a company. Also bring:
  * Multiple copies of your resume
  *Your elevator pitch –  A  few rehearsed sentences explaining who you are, what interests you,  and why you are a good fit for the company. Click here for an elevator pitch example.
How can I best prepare for TechFair LA?
Take advantage of our resources! Check back in for additional information about  Networking 101, How to Transition Into a Career in Tech, Skills That Employers Are Looking For, and much more.
How do I get there?
TechFair LA is taking place at the Magic Box at The Reef in Downtown Los Angeles, located at 1933 South Broadway, Los Angeles, CA 90007. We highly encourage public transportation and ridesharing services. Parking will be available on site, but limited.
I have questions. Is there anyone I can contact?
TechFair LA is taking place at the Magic Box at The Reef in Downtown Los Angeles.
1933 South Broadway, Los Angeles, CA 90007
We highly encourage the use of public transportation and ridesharing services.
About TechFair LA:
TechFair LA is largest job fair of its kind in Los Angeles. Brought to you by the Annenberg Foundation, Comparably and Mayor Eric Garcetti, the event will take place Thursday, March 8, 2018 at The Reef in downtown Los Angeles and will strive to harness the power of our exploding tech industry to benefit all of L.A.'s job seekers. The event was conceived to help thousands of people in Los Angeles find their dream jobs and to bring together the tech community in a one-of-a-kind setting.
At TechFair LA, you'll have the opportunity to explore the industry, speak to L.A.'s top tech companies, and network with fellow talent who, along with you, make Los Angeles one of the world's leading tech hubs.

Select "Job Seeker - AnnenbergTech"
For more information:
If you're a job seeker with questions about TechFair LA or if your organization is interested in partnering with us, send an email to techfairla@annenberg.org.  
About AnnenbergTech:
Born from the premise that visionary communications can improve public well-being, the Annenberg Foundation has created AnnenbergTech to explore how the intersection of technology and philanthropy can benefit our city.
AnnenbergTech coordinates efforts between technology business leaders, investors, nonprofits, and the city of Los Angeles to positively impact diverse communities throughout the region. Through convenings, thought leadership and programs, the goal is to create a culture within the L.A. tech ecosystem to make equity, opportunity, and social impact a pillar of its success. Click here to learn more.